FOR IMMEDIATE RELEASE


SUBJECT: FLB HISTORICAL SOCIETY HOLIDAY HOUSE TOUR-WATERFORD, PA
PRESS RELEASE: FIVE AMAZING HISTORIC HOMES OPEN THEIR DOORS TO THE PUBLIC
MEDIA: Contact us to bring your cameras or reporters to preview…your viewers or readers would love a sneak peek
CONTACT: JoAnne Lenart-Weary, 814-440-3044 or joanne@thejlwcompany.com FortLeBoeufHistory.com
Waterford, PA – The Fort LeBoeuf Historical Society announces the 2017 Jingle Bells Holiday House Tour, to be held in 5 beautiful homes in charming Waterford, on Friday, Nov. 17 from 6-8, Saturday, Nov. 18, 10-5 and Sunday, Noon to 4. These five houses will be transformed showcasing owner collections, magic from talented Historical Society volunteers and local decorators and florists. Houses will also feature Chinese Auction baskets, refreshments, and a self-guided tour.
Each of the five houses features unique elements, including:
3854 Wheelertown Road-A house with a room that was the original Pony Express office in LeBoeuf Township and later the first Post Office in the area. Each room has been decorated with a different theme. Decorated by Larese Florals, Kelly King, homeowner, and Fort Le Boeuf Volunteers
520 High Street-A home that served as an early tourist home, housed a retail store, and was once home to a Mayor of Waterford and later Erie, who rode the funeral train with Lincoln's body. The owners love to decorate for the holidays and are kind enough to share with you. Decorated by Flowers by Valjeane and owners
119 East 6th Street-A charming cottage house that once served as a barn and later renovated into a home and lovingly restored. The decorations in this home are a family affair. Decorated by Judy Cline and family.
11045 Donation Road-An early farmhouse that features many unique architectural details, showcasing the owner's collections. Even the basement is interesting in this home. Decorated by Connie and Jim Day.
10860 Donation Road-An old farmhouse that has undergone a major renovation and tripled in size, featuring Rustic Glam, beautifully done with a mercury glass collection and more. Decorated by Spiced Up Spaces, Gina Paris Designs, A Floral Affair and Historical Society Volunteers
Tickets only $15 in advance by visiting fortlebouefhistory.com, the Eagle Hotel Gift Shop, or calling 814-440-3044. You may also buy them at any of the houses, the weekend of the event for only $20. Tickets are good for the entire weekend. While in charming Waterford, visit one of our great restaurants, check out the charming shops on Main Street and surrounding areas, or take a few selfies in the beautiful Gazebo in the center of town.
WHAT: JINGLE BELLS HOLIDAY HOUSE TOUR
WHO: Fort LeBoeuf Historical Society-proceeds benefits ongoing work at Historical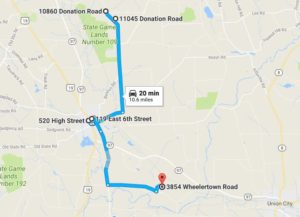 Campus
WHEN: Nov 17, 6-8 PM, 18th, 10-5 PM, or Sunday, Noon to 5.
WHERE: Five homes in and around Waterford…easy access
TICKETS: Advance $15 or $20 at the door, weekend of event
HOW: Online at fortleboeufhistory.com, Eagle Hotel Gift Shop, Phone at 814-440-3044
MORE DETAILS: FortLeBoeufHistory.com
CO-CHAIRWOMEN: Sandra Williams, Blinda Wilcox, and JoAnne Lenart-Weary
CONTACT: JoAnne Lenart-Weary, 814-440-3044 or joanne@thejlwcompany.com