In a town filled with historic properties, changes happen.   Some changes are made that still maintain the historic integrity.  Unfortunately, at other times, in the name of "improvement" the owner may not realize or respect the history of the property. 
"Civil War Recruitment Building, Borough of Waterford"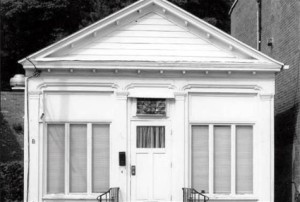 Built in 1823, it was the recruitment center for the Pennsylvania 83rd regiment, Company E, during the Civil War. The building, though historical in its significance, is not listed on the National Register of Historic Places listings in Erie County.  During the Civil War, Waterford was the designated recruitment center for the surrounding area and  was home to the Pennsylvania 83rd regiment, commonly called the 83rd Pennsylvania, a volunteer infantry regiment in the Union Army during the American Civil War who participated in almost every major battle in the East, including Seven Days Battles, Antietam, Fredericksburg, Gettysburg, Petersburg and the Surrender. They alongside the 20th Maine, 44th New York and the 16th Michigan fought in the spirited defense of Little Round Top in which former regiment commander Colonel Strong Vincent, native of Waterford, was mortally wounded. The 83rd Pennsylvania suffered the second-highest number of battle deaths among Union Army infantry regiments during the war, behind only the 5th New Hampshire. The regiment was mustered into United States service on September 8, 1861, then Mustered out June 28, 1865 after the war. During the war the Regiment lost during service 11 Officers and 271 Enlisted men killed and mortally wounded and 2 Officers and 151 Enlisted men by disease. Total 435.
Unfortunately a private owner, on Labor Day of 2014, removed and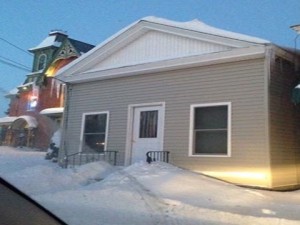 threw away all the architectural wood trim and ornamentation that defined the building's period, then covered the building entirely with vinyl siding, creating a modern façade. Although the owner was within his rights to update this building, it is a shame to have lost its historical integrity.