Waterford is filled with many great businesses offering a variety of services, products and entertainment.  After visiting our Historical Campus, we encourage you to visit our local merchants.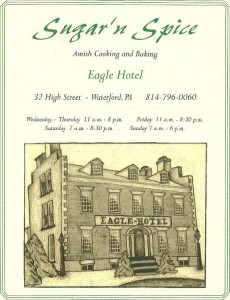 Great Amish Style Food. Family recipes handed down thru the generations. Enjoy our large portions of homemade delicious food from soups, sandwiches, traditional dinners and daily specials. Don't miss our delicious homemade pies!
Address:   32 High Street, Waterford, PA 16441
Call:   814-796-0060
Hours:
Wed-Thu 11 am – 8 pm
Friday 11 am – 8:30 pm
Saturday 7 am – 8:30 pm
Sunday 7 am – 6 pm
Closed January 1 through March 1 every year!