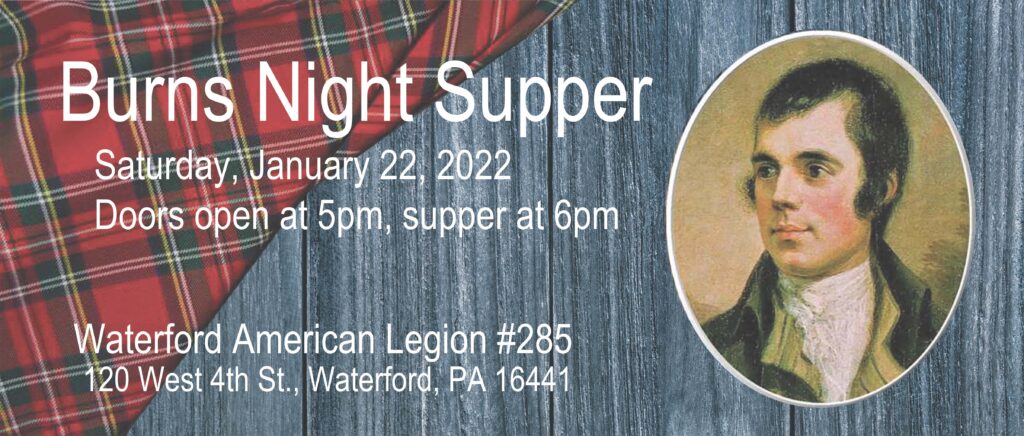 Please note that any tickets purchased after January 16th will be held for pickup at the front door. They will not be mailed out. If you did not receive your tickets in the mail that were purchased before that date, please let us know when you arrive.
---
Who is Robert Burns?
Robert Burns was born January 25, 1759, Alloway, Ayrshire, Scotland and died July 21, 1796 in Dumfries, Dumfriesshire. He was a national poet of Scotland, who wrote lyrics and songs in Scots and in English. He was also famous for his amours and his rebellion against orthodox religion and morality.
Burns perhaps exhibited his greatest poetic powers in his satires. There is also a remarkable craftsmanship in his verse letters, which display a most adroit counterpointing of the colloquial and the formal. But it is by his songs that Burns is best known, and it is his songs that have carried his reputation round the world.
What is a Burns Supper?
A Burns supper is a celebration of the life and poetry of the poet Robert Burns. The suppers are normally held on or near the poet's birthday, 25 January, occasionally known as Robert Burns Day (or Rabbie Burns Day) but more commonly known as Burns Night. However, in principle, celebrations may be held at any other time of the year. The first supper was held in memoriam at Burns Cottage by Burns's friends, on 21 July 1801, the fifth anniversary of his death; it has been a regular occurrence ever since.
What Food Will Be Served?
Traditional fare for a Burns Supper is Cock a Leeky Soup, oatcakes, shortbread and jam, and the star of the show..haggis served with neeps and tatties. Haggis is a sort of hash with oats and spices. Although traditionally including lambs lungs, this is not permitted in the United States and is not contained in the fare offered at this dinner. Additionally, there will be roast beef stovies (like a beef stew served over the tatties) with the main course. The tatties are mashed potatoes and the neeps are mashed Swedes (rutabagas).
What Else Can I Expect at the Supper?
The Haggis is piped in and the Address to a Haggis is performed. At the conclusion of the Address to a Haggis, there is a toast to the Haggis before it is retired to the kitchen and portioned out for the main course. Make sure that your glass is full for the toast! You will receive one drink voucher with each ticket purchased.
There will be readings and toasts performed during the course of the meal all in an effort to entertain. At the end, there will be music and dancing.
What If I Can't Dance?
You are in luck! There will be several opportunities to learn a couple Scottish dances prior to the event! You may attend one or all of them at no charge! They will be held at the Fort LeBoeuf Museum, 103 S High St., Waterford, PA 16441 on January 2nd, 9th and 16th starting at 4pm. You may call Jim Edwards at 814-449-0607 for more information.