Waterford Heritage Days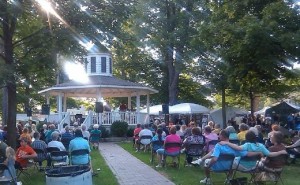 There will be something to do for the entire family including entertainment, crafts for sale, and great food.
Waterford Heritage Days is celebrated every year on the third full weekend in July. Everyone is invited to join us year!
Since 1795, Waterford has been celebrating its history, heritage, and citizens with a variety of community celebrations. Since 1974, we have enjoyed this summer event. It is an opportunity to showcase our community, its churches, non-profits, booster groups, businesses, and more.
Originally organized by Ginny Bullman with the help of Zona Miller of the Fort LeBoeuf Historical Society, it was a very small event the first year that included a "general store" where the historical society sold various items to raise money to save the Eagle Hotel from demolition.
Our summer celebration has been organized by a variety of people and groups over the years including the Fort LeBoeuf Historical Society with Sharon Mitchell as the first president and then Judy Nelson in 1980. Millie Fisk was named organizer in 1981, but it was taken over by a group of local churches and non-profits when she was unable to fulfill that obligation that year. It ran that way until the local business owners, under the Waterford Area Business Association (WABA), took over organizing Heritage Days. Those business owners included Benny and Darlene Hunt and Edna Hawley, who continued to run the event for 11 more years after WABA dissolved.
In 2013, the event was going to be canceled for a variety of reason. At that time, a small group of local residents stepped up to ensure that the event was held that year as it is a very important fundraiser for the local area non-profits and school booster groups. The name "Heritage Days" was assumed to be owned by the former organizers, so the name was changed to "Waterford Days". This group of concerned citizens included: JoAnne Lenart-Weary, Heather Waite, Judy Nelson, Jake Banta, Vicki Cuic, Kimberly Stebick, Marlene Lewis, Paula Harris, Jeffrey Herman, Daniel Ward, Terri and Rich Goodenow, and Kathy Williams.
In 2014, the organization of the event was taken over by the Fort LeBeouf Historical Society and Rick Goodnow was appointed chairman. When he was unable to fulfill his obligation, Kathy Williams assumed the chairmanship of the event. In 2018, it was discovered that the name Heritage Days was not, in fact, owned by the previous organizers so the chairman, Kathy Williams, made the decision to change the name once more to Waterford Heritage Days.
Kathy Williams stepped down from the chairmanship in 2019 due to other responsibilities, and another group stepped up. Still under the historical society, the chairmanship was shared 3 ways: Kelly Seblink, Lauren Baciulis, and Cindy Kreider. In 2020, due to COVID-19, the festival was cancelled. It was the first time since its inception that the event did not take place. But it held once again in 2021 and was organized by the historical society under the leadership of Cindy Kreider. No matter its name, it will always celebrate our town's heritage. This year will be no different and will continue to be organized by the hard-working group of people at the Fort LeBoeuf Historical Society.
The vendor forms may be found on the www.waterforddays.com web site!
Save
Save
Save
Save
Save
Save