The Amos Judson House, built in 1826 on what is believed to be the property of the original French Fort.  Edinboro University sponsored an archeological dig there and although few artifacts from the colonial period were found, large areas of wood charcoal in the vicinity of the Judson House suggest the remains of either the French or British forts (both were destroyed by fire). Remains from the American period are much more plentiful, numbering over 160,000 artifacts and garbage remains. Old entrances and a past porch were discovered associated with the Judson House.
Across from the Eagle Hotel is the Judson House, built sometime after 1800. This stately home is furnished in the style of the period, and is open for touring on Thursdays from 10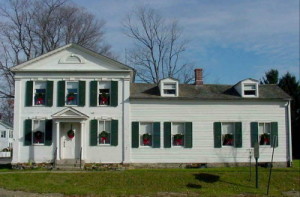 a.m. to 3 p.m., on Saturdays from 10 a.m. to 4 p.m. and on Sundays from 1 p.m. to 4 p.m. Groups tours by appointment. A donation of $4 for adults, $1 for children up to 12 – Not to exceed $10 per family would be appreciated to help us maintain the campus. The doantion allows you to tour all three historical buildings. Part of the second floor houses our library and extensive geneology collection, as well as a model of the original Fort LeBoeuf, as described in the journal of George Washington.