Every town has its stories, legends, and place in history.  Waterford is a small town in Northwest Pennsylvania where Friday night lights draw crowds for football,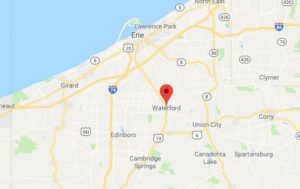 family names are generations old, men still gather at local coffee shops to swap stories, and a great place to live and raise a family. Once the home to French, British and American Forts, our location has drawn brave and industrious people since 1753. Plus, how many people can brag that George Washington really did sleep in our town when he visited the original Fort LeBoeuf in 1753.
The Fort LeBoeuf Historical Society was originally formed in 1975 to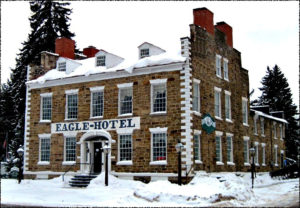 preserve the Eagle Hotel, which was in danger of being torn down. After much fundraising and hard work by many volunteers, the money was generated to purchase this historical building. The hotel now houses the Sugar 'n Spice Restaurant on the first floor, plus museum rooms on the second floor.  In time, the State turned other buildings over to the Historical Society, creating the Fort LeBoeuf Historical Campus at the south end of Waterford's business district on Route 19. In addition to the Eagle Hotel, the Campus includes the Fort LeBoeuf French & Indian War Museum, Judson House, and  George Washington Statue Park.
We are dedicated to collecting, protecting, and preserving the history of the Waterford area for the interest and education of present and future generations. As a non-profit organization, we rely on membership, grants, donations and various fundraisers throughout the year.  Although many faces have changed over the years, the Historical Society continues to be blessed with hardworking and dedicated volunteers. Please consider joining and volunteering to help our efforts.