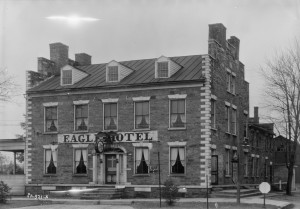 The Eagle Hotel, also called the Stone Hotel, was constructed in 1826 in the general area of three forts and the American Blockhouse, with locally quarried stone. It along with the Judson Store across the street were two of the first commercial buildings in Waterford's new commercial district on High Street as it began making its move from the banks of LeBoeuf Creek. This area was still a rough frontier so the elegance of the Eagle Hotel was impressive. Built by Thomas King, son of one of Waterford's earliest settlers, Robert King, who brought his family here in 1795.  At this time many inns grew out of an Innkeeper's home, but the Eagle Hotel was built as an Inn, stagecoach stop and an excellent livery stable attached.
King hired Ebanezer Evans, a master builder, to complete the stone work on the inn and livery stable. The inn was one of few stone buildings in Western Pennsylvania and became a welcome sight to weary frontier travelers. It quickly became the center of social and civic activities not only due to it's majestic appearance but also for its spring floor ballroom on the third floor.   It housed important guests and dignitaries, such as President Zachary Taylor, who traveled the area; as Waterford was an important crossroad for transportation. It was a major stage stop, later a bus stop. By the 1860's, Waterford had become a resort and the Eagle Hotel was advertised as one of the finest accommodations in the country. It was built next to the American Blockhouse (part of the American Fort) which became the Fort Hotel until a fire on March 21, 1868.
By 1900, the Eagle had become an important stop for salesmen. Many came by train, took up residence at the hotel, rented a horse and rig and conducted their business in the area. It was advertised as a "hotel for commercial men." Later in the 20th century, some famous "big bands" stayed at the hotel, while playing one night stands in the vicinity.
The Eagle Hotel has had numerous owners including one of Waterford's most prominent citizens, Amos Judson, from 1842 to 1853.  Judson came to Waterford in 1798. The hotel has survived two fires and the main building remains largely as it once was.  The hotel was documented by the Historic American Buildings Survey (HABS) in 1933; and was listed on the National Register of Historic Places on November 28, 1977.    It was designated a contributing property to Waterford Borough Historic District, March 9, 1990.
In 1977, the Eagle Hotel was purchased by the Fort Le Boeuf Historical Society with the hope of preserving this important historical building.  The hotel was renovated and the kitchen modernized from October 1997 to February 1998. In October 1998, the Eagle Hotel was leased by Sugar 'n Spice who continue to maintain a restaurant on the first floor.
The Eagle Hotel continues to be a significant part of the Fort LeBoeuf Historical Campus.