Waterford was built by heroes, hardworking people and a few characters or two, after all isn't that what makes a town interesting?  Here are stories about some who have made our town what it is today.
Old Frank – The Civil War was devastating to the Waterford area. The 83rd (Company E) and 111th Regiments seemingly were always in the front of the action. Officers and men fell – 53% of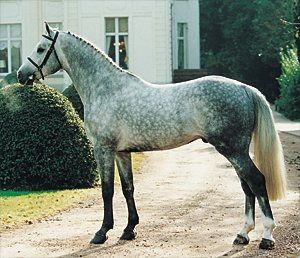 the total enlisted men were casualties. In 1865, they were mustered out, finally able to return home. Colonel W. O. Colt returned and brought his Southern captive with him – Frank, a dapple – gray war horse.
Col. Colt and Frank were common sights around town. Frank had the run of the town, visiting lawns and gardens, where he selected only the best. Not everyone was pleased, but no magistrate would stop the practice. Even after twenty years, the War was still closely remembered.
On July 4, 1887, the community drew together to celebrate Independence Day. Col. Colt led the parade riding Old Frank. Someone fired a cannon. Frank fell to his knees, quivered for a few seconds, and fell over – dead. The trauma and memories had overcome him.
Many in town thought he needed a proper burial, with military and religious overtures. The outraged parochial leaders were against it, but they could not stop the proceedings. A grave was dug in the park, behind third base. The local four piece brass band played, "Nearer My God to Thee" before an army chaplain read a eulogy. Frank was lowered into the grave, standing upright, with a sword strapped to his old army saddle and dozens of citizens filed past and dropped flowers into his final resting place.
Teary eyes and some sobs were common as the bugler played "Taps." They buried more than a horse that day. Contributed by Lewis Dove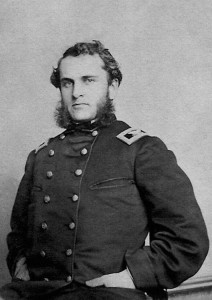 GENERAL STRONG VINCENT– (June 17, 1837 – July 7, 1863) was a lawyer who practiced law in Erie and became famous as a U.S. Army officer during the fighting on Little Round Top at the American Civil War Battle of Gettysburg, where he was mortally wounded. Vincent was born in his Grandfather's home in Waterford, Pennsylvania, son of iron foundry-man B. B. Vincent and Sarah Ann Strong Vincent. His early education was obtained in the academy at Erie, where he spent two years in his father's iron foundry, before attending Trinity College and Harvard University, graduating in 1859. While attending Trinity College in Hartford, Connecticut, he met the lady  who would become his wife. Expelled for beating up a man who impugned his lady's honor, Vincent enrolled at Harvard.
At the start of the Civil War, Vincent joined the Pennsylvania Militia as an adjutant and first lieutenant of the Erie Regiment. On September 14, 1861, he was commissioned lieutenant colonel of the 83rd Pennsylvania Infantry and promoted to colonel the following June. After the death of his regimental commander in the Seven Days Battles (at the Battle of Gaines's Mill), Vincent assumed command of the regiment. He developed malaria on the Virginia Peninsula and was on medical leave until the Battle of Fredericksburg in December 1862. On May 20, 1863, he assumed command of the 3rd Brigade, 1st Division, V Corps, Army of the Potomac, replacing his brigade commander, who was killed at the Battle of Chancellorsville. At the Battle of Gettysburg, 26-year-old Vincent and his brigade arrived on July 2, 1863. He started the Gettysburg Campaign knowing that his young wife, Elizabeth H. Carter, whom he had married on the day he enlisted in the army, was pregnant with their first child. He had written her, "If I fall, remember you have given your husband to the most righteous cause that ever widowed a woman."
One of Vincent's regiments, the 20th Maine, led by Colonel Joshua Lawrence Chamberlain, received most of the fame for the defense of Little Round Top, but there is little doubt that the efforts and bravery of Vincent were instrumental in the eventual Union victory. Vincent impressed upon Chamberlain the importance of his position on the brigade's left flank and then he left to attend to the brigade's right flank. There, the 16th Michigan Infantry was starting to yield to enemy pressure. Mounting a large boulder, Vincent brandished a riding crop given to him by his wife and shouted to his men "Don't give an inch!" A bullet struck him through the thigh and the groin and he fell. Due to the determination of the 20th Maine, the 44th New York, the 83rd Pennsylvania and the 16th Michigan Infantry Regiments, the Union line held against the Confederate onslaught. Vincent was carried from the hill to a nearby farm, where he lay dying for the next five days, unable to be transported home due to the severity of his injury. The commander of the Army of the Potomac, Maj. Gen. George G. Meade, recommended Vincent for promotion to brigadier general on the evening of July 2. The promotion was dated July 3, 1863, but it is doubtful that Vincent knew about the honor before he died. Vincent's wife gave birth to a baby girl two months later, who died before reaching the age of one and is buried next to her father in the Erie Cemetery. He  is memorialized in Erie by a 1997 statue erected at Blasco Memorial Library and in the naming of Strong Vincent High School.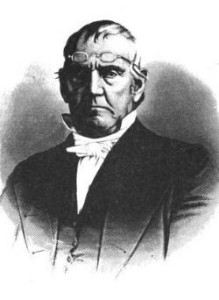 Judge John Vincent-The judge every year always had the whole family return to his home for Christmas. A special Christmas tradition at his home was that all of the grandchildren would find a hundred dollar bill beneath their plates. According to the Vincent's family journal, the children enjoyed playing hide and seek in the house, because at that time the house extended much farther north and all buildings were connected to the house, wood shed, livery and tack rooms, wood shop and carriage houses, etc. that gave a lot of area's to hide. The house burned down during the late 1990's.
Michael Hare-The flag which marks the grave of Michael Hare, of Waterford, veteran of many battles, is still unfaded, the blue as deep as the blue sky over Evergreen Cemetery on a clear day. Generations have already passed since he was laid to rest. He is not alone, since there are comrades lying with him in soil that is sacred. Several may have fought on the same fields, and under the same leadership, for all we know.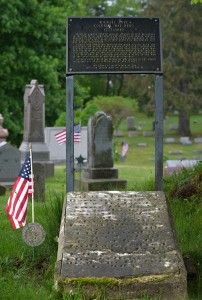 We read the inscription: "Michael Hare born in Armaugh County, Ireland, June 10 1727. Was in the French and Indian War; at Braddock's defeat; served through the Revolutionary War; was with St. Clair and was scalped at his defeat by the Indians. Died March 3, 1843, aged 115 yrs. 8 mo. 22 days." We also read "Elizabeth, his wife, Died April 10 1840 aged 90 years." Both had been buried in an earlier cemetery located in the west section of Waterford borough. The remains of Michael Hare and his wife were moved to Evergreen Cemetery many years ago. In the soldier's plot is the grave of another Revolutionary soldier, Captain Robert King, "who departed this life December 7, 1826, aged 80 years." Near are the other markers of soldiers who served to perpetuate the nation which Hare and King fought to establish.
Those who have visited the graves have tried to visualize Michael Hare, the pattern of life lived by him and his wife Elizabeth, 22 years younger. Many legends concerning Michael Hare are still told by Waterford people, and these stories rest on solid foundation. Mrs. Velma Alexander Mando, South Erie, is a descendant, and has given intensive research into the life, and the military record of her ancestor. The record of Michael Hare, from twenty four years, shines more brilliantly. He was branded as a traitor by the English Crown which is evidence that his service as a patriot were recognized.
Michael Hare and family came to Erie county about 1796 or 1797, settling near the little stream known as Hare's Creek, north of Corry. This stream appears on present day maps. His cabin site was not far from a clump of apple trees which were pointed out to people many years ago.
David Wilson, the historian of Union Township, ancestor of Barrie Wilson and others wrote of Michael Hare in his little booklet, "A history of Union Township," 70 years ago. There was never a more accurate or painstaking historian of Erie county than David Wilson. He said of Hare: "He was a weaver by trade, and if any of the neighbors had a piece of fancy work that ordinary weavers could not do, such as double coverlets or bagging of double thickness, twilled on one side and plain on the other, if they would send for Hare, he would go, be it near or far, and rig up their loom, and show them how to weave it, and charge the moderate sum of two dollars. The writer (Mr. Wilson) has a bag that will hold three bushels, woven by Mr. Hare or rather by his showing. It may rot in time, but we are satisfied it will never wear out.
Wilson whose history is dependable, relays one of the many interesting facts of the life of Hare, narrated on occasion when Hare was in a good mood to talk of the past. He says; "Boys present would be deeply impressed with the thrilling incidents of his life, remembering them long. He had been a soldier in the American Revolution, and under Col. Rogers he had been down to New Orleans to bring up several boats loaded with provisions, to supply stations along……………………….part of article missing……………then return at the mouth of Licking River in Kentucky, the place where the city of Covington now stands, they were attacked by a large body of Indians, and engaged in a desperate fight in which Colonel Rogers and about 60 of his men were killed and some of their boats captured. Michael Hare was taken prisoner and marched to northern Ohio, where he became acquainted with Simon Girty."
Being present or near, we may add, Colonel Craword at the time of his torture a prisoner, he was unable to do anything to help. Hare being an Indian interpreter, must have been in favor as a captive during a period of three years.
After moving from Hare Run, he took up his residence at Oak Hill between Union City and Waterford. At the age of 100 years he taught school, first in his cabin, and afterward in a school house built in the vicinity. He was still active in spite of his years. He walked to Waterford it is said, only a few days before his death, and engaged in some conviviality with cronies at that time.
Mrs. Mando has gained the impression through research and from family tradition that Michael Hare was short, solidly built, may have weighed 170 pounds in the prime of life. Owing to his having been scalped at the time of General Arthur St. Clair's ill-fated expedition against the Indians in 1791, he wore a skull cap or covered the mutilated crown of his head with a handkerchief. Mrs. Ensworht says that he favored his scalp wound by leaning his head toward the fire for comfort. After scalping Hare on the battle field in Parke County, Ohio the Indians left him for dead. He was 64 year of age at this time.
Hare was befriended by an Indian woman, and the manner in which he was protected by her is one of the mysteries of this strange life.
The woman guided him all the way across present day Ohio into Westmoreland County where he was living at the time. She hid him by day by piling branches and leaves over him, while she kept a look-out from a tree nearby. He was once hidden underneath a log, which Indians in their search had mounted looking about. Cases comparable to this are recorded. A key to his contact with the Indian woman undoubtedly lies in the fact that he severed as an interpreter. Hare was a prisoner in the hands of the Indians ten years earlier when Colonel Crawford made his ill-fated expedition against the Indians. His knowledge of Indian ways, and his ability as an interpreter saved him in this situation.
Colonel Crawford was burned at the stake by the Indians, Simon Girty, the "renegade white," may have been kindly disposed toward Michael Hare, and influenced the Indians to spare him, which he did not do in behalf of Colonel Crawford. Crawford County was named in honor of Colonel Crawford, a boyhood playmate of Washington, and the McMichaels of south Crawford County are descendants. The archives of the commonwealth identify Michael Hare as a Ranger from Westmoreland County in 1777, a private, 1780, late a sergeant in the Penna. Volunteers, and Indian captive, 1872. As a prisoner he was taken to Detroit, then to Quebec, and was exchanged in November, 1782, being sent by sea to Philadelphia. Again Hare was serving in the ill-fated Colonel Archibald Lochrey's company that was ambushed at the mouth of the Great Miami River by the Indian leader Brant and Simon Girty. Hare was one of the survivors of the hundred, 42 having been slain. Lochrey's outfit was trying to make its way westward to join the forces of George Rogers Clark.
Turning back in the early days of the Revolution, we find that Michael Hare enlisted in Northumberland County.  Enlistments were for a few months, yet Michael's service was practically continuous by enlistment during the Revolutionary war. He was in the battle of lone Island, and was detached to serve under Anthony Wayne in the historic attack on Stoney Point. We again find him serving under Colonel Broadhead. He was not interested in a onus or pension and only applied in 1818 when he was 80 years of age. He was granted $96 a year, which was liberal at that time. He was allowed back pay, which was helpful in his advanced years. This amounted to a little over $1,000. His ardor was unfailing, and at the age of 85, he walked to Erie, and offered his services to Captain Forester to serve in the 1812 War.
Mrs. Mando finds that Michael Hare attended St. Patrick's Seminary, convenient to his birth-place in Ireland, the aim of his training being the priesthood. He had acquired some education and was……………………some of article missing………America he stopped first near Philadelphia, then on to the northwest with the tide of migration into Northumberland county. He served in the French and Indian war and under Washington. He was one who held back the bloodthirsty Indians who were bent on exterminating Braddock's English regulars to the last man. Hare was then 28 years of age, and was wounded. It seems that fate had meted out to him battles which were crushing defeats, yet he lived to see triumph from disaster. Michael Hare saw as a man of thirty years, the English taking over Fort Duquesne and vacating the Ohio River Valley. Indian troubles broke out under Pontiac. He was present at the Battle of Bushy Run serving under Colonel Henry Bouquet who was pressing forward to relieve Captain Ecuyer, then besieged in Fort Pitt. Bouquet and Ecuyer were Swiss soldiers of fortune serving the English crown in America. At Bushy Run eight years after the humiliation of Braddock, the Indians sought to trick Bouquet's forces into a similar ambush but were tricked by Bouquet and disastrously defeated.  Earlier Fort Duquesne, under the French, was raised by the arrival of Bouquet's forces. All this is delightedly told in "Toward Morning," "Men in Buckskin," "Bedford Village," the writings of Harvey Allen. In reading these volumes one can visualize Michael Hare, the weaver, the would-be priest, the adventurer, the interpreter, and the ranger, ever in danger, yet ever able to meet that danger by craft and cunning.
Rev. Tobias Mitchell, the first resident clergyman at St. Peter's Episcopal Church, Waterford, conducted the funeral services of Michael Hare. This church gave to the nation Brigadier Strong Vincent, the hero of Gettysburg, who as a child was confirmed in the church and who may have been seen in his youth Michael Hare.
The memory of Michael Hare will ever remain revered and his grave respected by Waterford's veterans of all wars and patriotically conscious citizens.
This article was taken from a column "Walter Jack Writes About-" that was in the Erie Times, dated 7-1-1951.
"Biggest Liar in Waterford"
George couldn't find his sow! A six hundred pound hog, bred and expecting at any time, shouldn't disappear without a trace. He looked all over town. Becoming desperate, he went to the far end of his garden to check the fence and saw one of his pumpkins "move" – kinda shake. Here that sow had eaten an opening into the pumpkin, hollowed it out, and birthed seventeen piglets, each one doing nicely. As George told this story, the boy's eyes bugged out. Bill's dad, Gene Mitchell, had to tell him that George Lechner exaggerated some.
According to George, during World War II, the U.S. Navy kept a guard over the garden; they bought all his cucumbers after it was found they made their best submarines. Germans might steal them. Man talking to George on High Street. "Where do you suppose they're taking that  back hoe, George?" "My Place." "Why your Place?" "It's time to dig the carrots."
George in barber shop. "Last week I shot 26 pheasants and 32 rabbits." George Coffin responds, "Do you know who I am?" "No." "I'm the new deputy game warden." Lechner, "Do you know who I am?" "No." "I'm the biggest liar in Waterford." With George it went on and on. The one true thing was that he was a good gardener and everyone knew it. He was invited to weddings and other social events, just to tell his stories; he sure broke the ice. His greatest talent was in not taking himself too seriously.
He was found dead in the snow one cold morning. The ward nurse reported around his neck was a medal that read, "Biggest Liar in Waterford".
Wally Mahle, well-known local sports figure, died Saturday, December 13, 2008 at his home in Waterford following a lengthy illness.  He was 65 years old, born in Flemington, WV on May 24, 1943 to the late Arnold and Orpha Mayle Mahle.
Wally's love of football and athletics started at Fort LeBoeuf High School where he played as quarterback from 1958-60. He attended Syracuse University and was a three-time letterwinner and starting quarterback from 1962-64. As a senior, he led the 1964 team, which included running back Floyd Little, to the Sugar Bowl. He graduated in 1965 and was selected as Syracuse's student-athlete of the year in 1962 and 1965.
He was one of three Syracuse alumni to create the Syracuse Alumni Club of Northwest PA, and was a member of the Syracuse Varsity Club and Football Letterman's Club. On September 11 of this year, Wally received a Letterman of Distinction award from Syracuse University.
In 1965, Wally entered the NFL as the fourth round draft pick of the Green Bay Packers under coach Vince Lombardi. He coached as an assistant at Syracuse from 1969-73, and during this time, earned his master's degree in 1972.
He then began a 30-year career coaching high school football, including stops at Fort LeBoeuf and North East. He also enjoyed coaching youth baseball and basketball teams. He was a certified physical education teacher and football coach in New York, Pennsylvania and West Virginia.
In addition to a successful teaching career, Wally was a clinician for the America Fitness Foundation and was appointed to the Maryland Governor Council on Physical fitness, pioneering adult fitness programs in corporate environments for 13 years. He was a charter member of the Fitness Directors in Business and Industry, and a member of the Erie Metropolitan Chapter of the PA Sports Hall of Fame.
Brian Milne graduated from Fort LeBoeuf High School after a brilliant career playing football for the Bison. Brian Fitzsimons Milne (born January 7, 1973 in Waterford, Pennsylvania) was an American football fullback in the National Football League. Being drafted in the fourth round of the 1996 NFL Draft by the Indianapolis Colts. He was placed on waivers before the season started, later to be claimed by the Cincinnati Bengals where he saw little action carrying the ball, logging only 125 yards and 4 touchdowns over 4 seasons in Cincinnati. He was then released by the Bengals and picked up by the Seattle Seahawks.
He last played for the New Orleans Saints with whom he was a part of a play that will forever live in Saints history. In the 2000 wild card playoff game against the St. Louis Rams, Milne recovered the muffed punt off Az-Zahir Hakim with less than 2 minutes left to help the Saints record their first ever playoff win. Saints announcer Jim Henderson made his legendary call: "Hakim drops the ball! Hakim drops the ball! Brian Milne might have fallen on it at the 10 yard line! It's the New Orleans Saints' football! Brian Milne, the most unlikely hero of them all, falls on the fumble, the muff by Hakim! There is a god after all!"
Milne enjoyed a fine career at Penn State University, where Head Coach Joe Paterno held a scholarship for Milne as he recovered from cancer treatments as a teenager. Milne's most outstanding game as a member of the Nittany Lions came in early November 1994 at Illinois, where he scored three touchdowns (including the game-winner) in Penn State's largest comeback victory under Paterno. Penn State went on to beat Oregon in the Rose Bowl to become the first Big Ten team to earn a 12-0 record, finishing second in the polls.
While at Penn State, Milne was also a member of the track & field team. He was a national class discus thrower. Milne threw the 2k discus over 63m/207′ for an American Junior Record.
Claude AnShin Thomas was born in Waterford, Pennsylvania in 1947. A survivor of childhood violence, he became a soldier in the Vietnam War, where he served as a helicopter crew chief. Today he is a fully ordained Zen Buddhist Monk in the Japanese Soto Zen Tradition. He has also taken vows of mendicancy.
Claude AnShin leads programs around the US and internationally on mindfulness, healing, and transformation. He is the author of AT HELL'S GATE: A Soldier's Journey from War to Peace (Shambhala 2004). His writing has also appeared in several anthologies including The Mindfulness Revolution and The Best Buddhist Writing.
Claude AnShin divides his time between the U.S., Europe, and South America in working to bring an end to the repetitive cycles of suffering and violence.
Claude AnShin Thomas served in Vietnam from 1966 -'67, at the age of eighteen, in the 116th Assault Helicopter Company. He was shot down on five occasions and was wounded once, receiving the Purple Heart. He was honorably discharged from the US Army in August of 1968.
Claude AnShin has been politically and socially active, working to end the war in Vietnam, working for student rights and later working to address the plight of many of my fellow veterans who were being socially ostracized – suffering homelessness, drug addiction, unemployability, social isolation, and abnormally high rates of suicide, divorce, and imprisonment. All of these were conditions with which he was intimately aware and personally familiar.
"If we want the world to be a different place, then we as individuals have to live differently. Through mindfulness, we can nurture healing and transformation within ourselves, and this can change the world."
In 1991 he came in contact with the Zen monk Thich Nhat Hanh. Claude became a student of the Vietnamese monastery and retreat center Plum Village in southern France. It was here that he became aware of the devastating and lasting effects of war and how to make peace with this unpeacefulness. He was ordained a Zen Buddhist monk, AnShin AnGyo (translated 'Peace-Mind Peacemaker or Peace-Heart Peacemaker) in 1995 by Bernie Baizen Tetsugen Glassman, Roshi, founder of the Maezumi Institute, the Greyston Foundation and co-founder of the Peacemaker Order.
Claude AnShin worked for peace in the Balkans, and participated in a Pilgrimage for Peace with the Venerable Brother Sasamori Shonin of the Nippozan Myohoji lineage of the Japanese Nichiren Order. This pilgrimage began in Auschwitz in December of 1994 and ended in Japan (Hiroshima/Nagasaki) in August of 1995. Claude AnShin participated in this pilgrimage until arriving in Vietnam where he spent an extended period of time walking.
On March 1, 1998, he began a New York to California cross-country journey, called the American Zen Pilgrimage which was completed July 29, 1998. Claude AnShin and those who walked with him practiced the ancient Buddhist tradition of takuhatsu, or alms begging, relying on donations of food and shelter throughout the journey. The main focus of the journey was realizing the unknown, bearing witness, and healing.
From August to October 1999, he did a pilgrimage in Germany through many concentration camp sites, prisoner of war camps, prisons, and other places of suffering connected to the Second World War. He did so again in the fall of 2002 completing a pilgrimage from Budapest, Hungary through Austria to Bergen-Belsen, Germany.
In 2004 he walked on pilgrimage in the United States from Concord, MA to Ground Zero in New York City, to the Vietnam Veterans Memorial in Washington D.C. In 2007 he walked along the entire US-Mexican border starting in Brownsville, TX ,and finishing south of San Diego, CA.
Claude AnShin has written extensively about coming to peace with the devastating effects of war and how to find peaceful means for conflict resolution. His writing has appeared in 'The Shambhala Sun, GEO, The Sun, Tikkun, and has been interviewed for the Boston Globe, and in his memoir 'AT HELL'S GATE – A Soldier's Journey from War to Peace' published in the US by the Shambhala Publications and translated into many different languages.
Patrick Monahan (born February 28, 1969) is an American singer-songwriter, musician, and actor, best known as the lead vocalist for the band Train. He has collaborated with multiple artists, and has recorded a solo album, Last of Seven.
Monahan began his musical career singing with cover band Rogues Gallery from 1988 to 1990. The band consisted of Monahan (lead vocals, percussion), Mark Emhoff (lead guitar, vocals), Mike Imboden (bass, keyboards, vocals), John McElhenny (drums, vocals) and his brother Matt McElhenny (rhythm guitar, keyboards and vocals), in his hometown. After the dissolution of the band, he left Erie in late 1993 and moved to California, where he met Rob Hotchkiss. While progressing from the SF coffeehouse circuit to the LA club scene, Monahan and Hotchkiss added Jimmy Stafford (guitar), Charlie Colin (bass), and Scott Underwood (drums) to their lineup, thus officially forming Train.
From 1994 to 2006, Monahan released four studio albums with Train. In 2002, the band earned two Grammys, one of them for the song "Drops of Jupiter (Tell Me)", which was written by Monahan and inspired by his late mother, who had died of cancer.
Aside from his work with Train, Monahan also sang additional vocals on the song "Shimmer" with the band Fuel in 2001. In November 2005, he appeared as a guest vocalist on VH1's Decades Rock Live, where he covered Cyndi Lauper's hit single "Time After Time". Later, he took part in Storytellers — The Doors: A Celebration, paying tribute to The Doors by performing "Love Me Two Times".
From 2006 to 2009, Train took a three-year hiatus. Monahan released his first solo album, Last of Seven, on September 18, 2007 and began a nationwide tour supporting it. He followed that tour with a small, intimate acoustic tour, which inspired his Last of Seven Acoustic compilation, available via digital download only. His first solo single, "Her Eyes", made the top 10 of Billboard's Hot AC chart. The album's second single was "Two Ways to Say Goodbye."
On Last of Seven, Monahan duets with folk rock musician Brandi Carlile, with special guest appearances by Richie Sambora and Graham Nash. Monahan worked with Guy Chambers to co-write two songs for Tina Turner's hits album, Tina!: Her Greatest Hits.
In 2009, Train returned to the studio with the critically acclaimed album Save Me, San Francisco. That same year, Monahan and some of his fellow Train bandmates took on small acting roles in the CSI: NY episode "Second Chances". Monahan played the former homeless drug addict Sam Baker (dating Debbie Fallon[4]) who becomes involved in a murder investigation. They performed the song "Hey, Soul Sister" from their new album, and "Calling All Angels".
Despite the success of their new album, Monahan found time to collaborate with other artists in other projects. On April 4, 2010, he performed with The Hollies at the Rock and Roll Hall of Fame induction ceremony, as The Hollies were inducted. He sang lead vocals on the song "Long Cool Woman in a Black Dress". The following year, he contributed a cover of Buddy Holly's "Maybe Baby" for the tribute album, Listen to Me: Buddy Holly, which was released on September 6, 2011.
Monahan also recorded a duet with Martina McBride, singing Train's song "Marry Me". This version of the song is on McBride's eleventh studio album Eleven, released October 11, 2011. He also performed several times with INXS during 2011; first on The Tonight Show with Jay Leno and then at a concert at Chateau Ste Michelle. Monahan also appeared on the show The Voice, where he performed "Drops of Jupiter" with contestant Vicci Martinez.
In 2013, he started a podcast called Patcast where he interviews different people in the music industry, and talks about his work with Train.
Save