Fort LeBoeuf Historical Society Welcomes You to Waterford, Erie County, Pennsylvania, in the northwest corner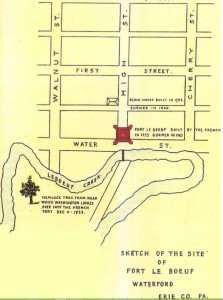 of the state. Waterford played a significant part in the history of our country. It was here, to Fort LeBoeuf, that young George Washington came in 1753 to tell the French that this was British territory and that they must leave. When they didn't, this was the spark that kindled the French and Indian War. After the French were forced to leave, the British built a fort, which was subsequently burned by the Indians during Pontiac's Rebellion. After the Revolutionary War, an American fort was built to protect incoming settlers from possible Indian attacks. The forts are gone now, but vestiges of our rich historical past remain.
The Fort LeBoeuf Historical Society is dedicated to collecting, protecting, and preserving the history of the Waterford area for the interest and education of present and future generations.
We are a non-profit organization and rely on the businesses and members of the Waterford Community for our funding.

If you would like to stay informed about what is happening,  read about special historical points or see what great special events we have scheduled,


please register for our newsletter.