SPECIAL EVENT
Don't Miss Yuletide Traditions & Tours
Presented by FLB Historical Society
Dec. 4-6, 2015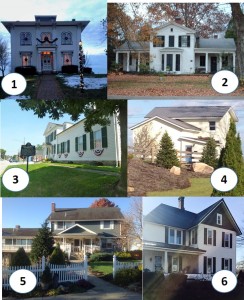 Events include:
Holiday House Tour-Enjoy 6 Beautiful Homes self-guided tour around Waterford
Traditions Around the World-Eagle Hotel
Williamsburg Decorating-Judson House
Special Programs-FLB Museum
and more…see the schedule here
Buy Tickets Now-Only $15 until 11/23
The Fort LeBoeuf Historical Society welcomes you to Waterford, Erie County, Pennsylvania, in the northwest corner of the state, which has played a  significant role in our nation's history. A beautiful area where the eagles fly, the deer play, the black bear roams and men and women of courage, fortitude and spirit continue to reside.
Waterford was the site of 3 Forts, French, British and American. This area became important because of its proximity to French Creek providing transportation of men, munitions, goods and more as this part of the country started to take root. Dubbed French Creek by a young George Washington, who came in 1753 to tell the French this was British territory and they must leave.  He was representing the Virginia Militia and Governor Dinwiddie.  The French refusal  was the spark that kindled the French and Indian War.
The Fort LeBoeuf Historical Society is dedicated to collecting, protecting, and preserving the history of the Waterford area for the interest and education of present and future generations.  As a non-profit organization built entirely of volunteers, they rely on income from a variety of special events, area  businesses, community  members, donations and grants to maintain their efforts.